The Voice of Youth
The Voice of Youth has Developed into a whole new division of Youth Support Charity. This exciting development is led by Omar Richards. You may wish to read about his early work with Youth Support below or go directly to our new section The Voice of Youth.
Youth Journalism (Omar Richards)
Omar Richards is one of our Youth Leaders who first joined our Youth Support Team in 2002 when he attended our peer counselling workshops held in conjunction with the Women's Centres of Jamaica Foundation. At the time Omar's contribution was noted to be vibrant and imaginative and he was invited to enter our writing competition, winning a place at the World Youth Forum in London in October 2002.
In 2004 we held our conference at the University of the West Indies and Omar, in conjunction with his co-leader Jodian Grindley, was instrumental in helping to organise the conference.
One of the resolutions of the conference was to help Omar and Jodie with th eir studies and subsequently we were very pleased to be able to take Omar to London where he enrolled in the Pre-Access course and then the Access course at Lambeth College.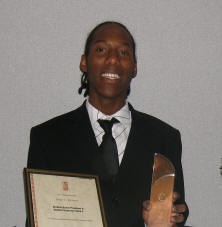 On arrival Omar faced many hurdles occasioned by the deficiencies of his education in Jamaica but he knuckled down to hard work - starting from the bottom up and passed his first year exams with flying colours. During the second year Access course Omar was the Student president and Student Governor, so impressing the other governors and staff that he was awarded a special trophy
Omar passed his Access course and has been admitted to The City University, London , where he is reading Journalism. He has a real commitment to his work and has always dreamed of being able to work as a journalist. Omar has worked hard to raise above the deprivations and traumas of his early life and is a shining example to other youth that you can work for positive goals; that youth have resilience and power and that there is no need - nor indeed any excuse - for young people in the ghettos of Kingston or similar areas of poverty throughout the world to make do with a life of violence and crime.
Omar is committed to spreading this message to his peers and other youth to encourage others to follow a positive path.
Well done Omar, we are proud of you!
Access some of Omar's writing - more to follow- NB this is early work.
Clamp PhobiaGlobal Peace Festival - Service: a good means for peace!
Omar Richards's blog | The-Latest.com
The Changed Scene of Brixton | The-Latest.com
Omar Richards's blog The-Latest.com
Service_Project_Experience_by_Omar_C._RichardsThe Diamond amongst Coppers
Some pictures of Omar acting the part of Youth Ambassador
[ back to top ]