دعم الشباب
ASYLUM
We are working to provide better support services for young Asylum Seekers and refugee children and we are involved in several initiatives to bring this about :-
Series of Youth Forum Workshops for Asylum seekers

A series of media initiatives to bring public attention to the plight of young refugees.

An Appeal to help set up a centre for refugees
NEW - A very important study has just been concluded - thanks to those who helped. The results are available in our book - 'Asylum Seeking Children; Including Adolescent Development and the Assessment of Age'
Research paper completed with Children's Hospital Los Angeles also supports our age assessment methods.
Join us for our Workshops in Drama. Music art and Creativity!
Special Sessions for Refugee Youth
Next sessions will be notified soon although currently closed due to Covid restrictions.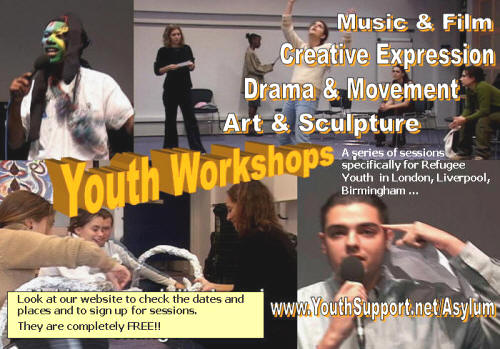 We are holding a series of sessions specifically for refugee youth – these will take place in London, Liverpool, Birmingham and other venues.
Come and Join us and learn how to express yourself, explore your feelings and have fun while we learn together.
Next sessions coming soon
Youth Forum Services