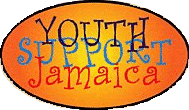 Youth Support Jamaica -
Our Jamaican branch has expanded greatly since our first activities in 1985 and we are now building our own centre in St Elizabeth and have on going projects in Kingston.
We have had links with the Women's Centres of Jamaica Foundation - based in Trafalgar Road Kingston - since 1985 and first visited them in 1986. On that visit Youth Support also provided aid in terms of vaccines and antibiotics to help with the recent severe flooding on the Island. Subsequently there have been numerous return visits - in both directions - strengthening links between our two organisations and we have a regular input into the peer counselling programme in Kingston.
Other Jamaican initiatives have included material aid to hospitals and clinics and to individuals requiring basic assistance. We also have liaised with the Ministry of Health , with the University of the West Indies and the Family Planning board. Jamaican Television and radio has reported on our activities.
In London we have supported young people of Jamaican origin and have given a grant for a young sportsman to train in the USA on a basketball scholarship.
See our dedicated site www.youthsupportjamaica.com